It's almost October which means Inktober is coming!
31 Days, 31 Drawings
Prepare to get 
Inky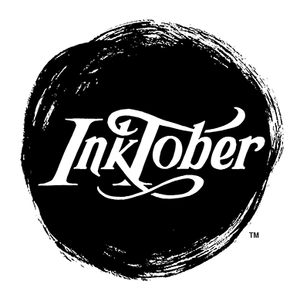 What is Inktober?
Inktober was founded by Artist Jake Parker, in 2009.  It began as a challenge for himself to improve his skills and has grown into a yearly worldwide artist challenge.
The challenge is simple, simply draw every day during October in ink.
Official Website:  Inktober
Official: Mr. Jake Parker
YouTube:  Jake Parker's YouTube Channel
Who Can Participate?
Everyone!   Artists and newcomers alike can participate.  All you need is paper and ink!
Do I need to draw every prompt / day?
No.  It's up to you if you want to follow the prompt list.  The lists are simply to give you inspiration if you don't know what to draw.  Likewise, you do not need to draw every single day.  The point of the month is simply to get people creating in ink.
It's also acceptable to sketch out your drawings ahead of time and simply ink them on each day.
You don't need to have fancy inking supplies or expensive paper, this is all about the fun of creating!  Let loose, try something different and have fun!
My first Inktober I used sketch paper and a ballpoint pen!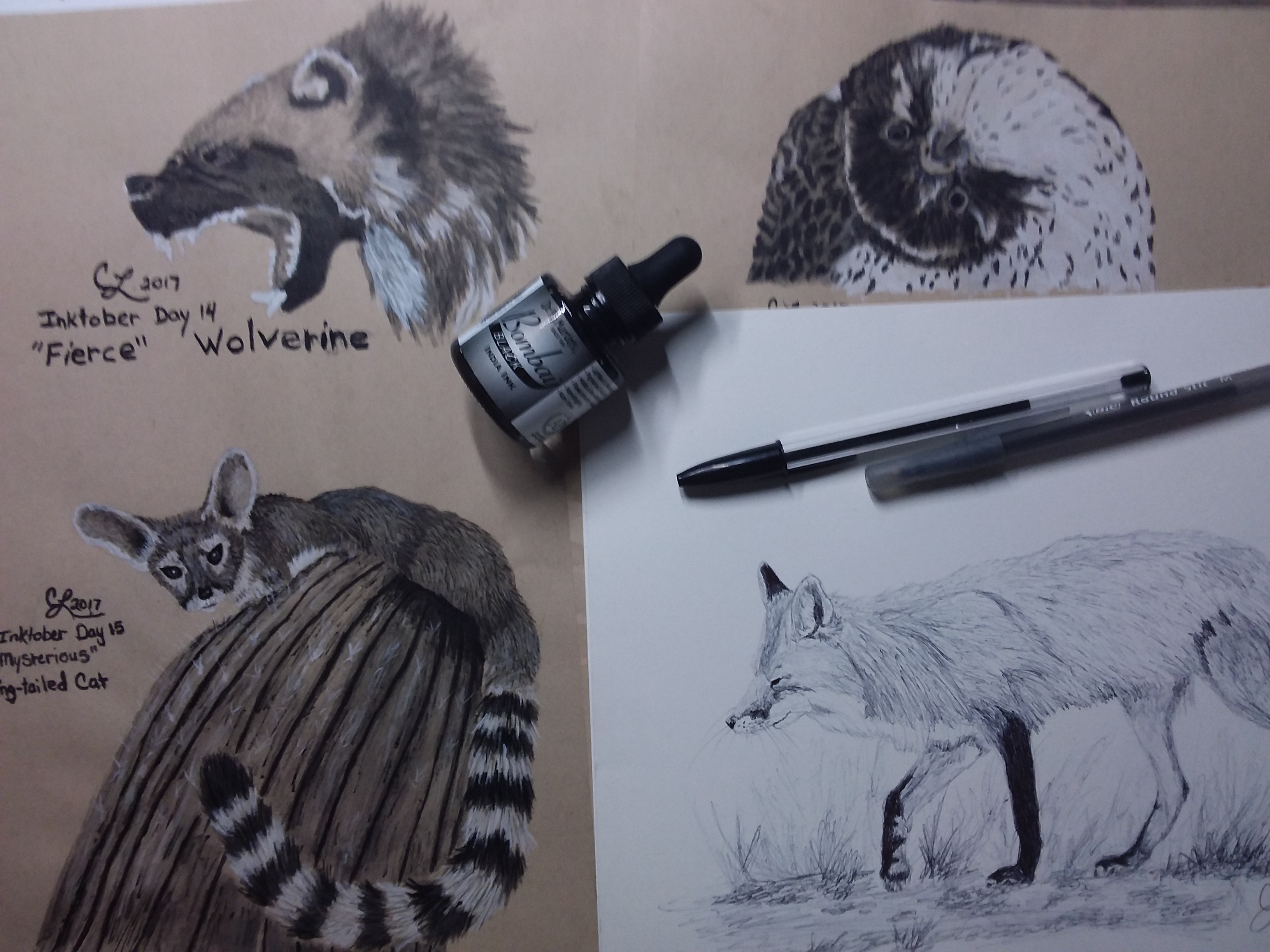 Inktober 2017
Ballpoint pen Fox, lower right corner.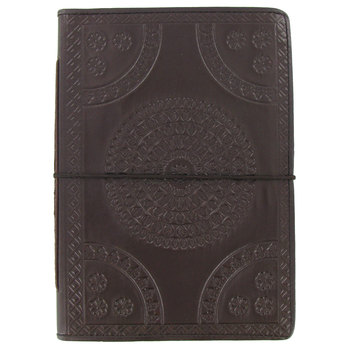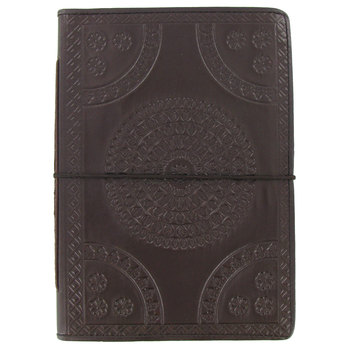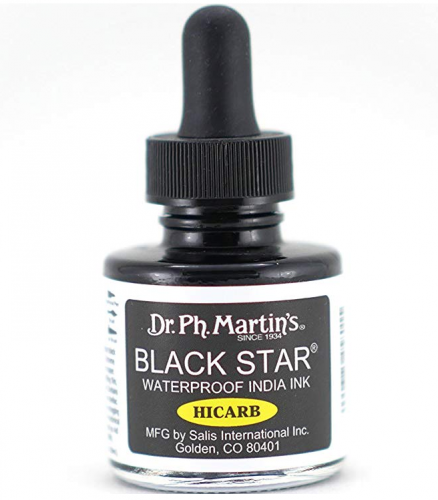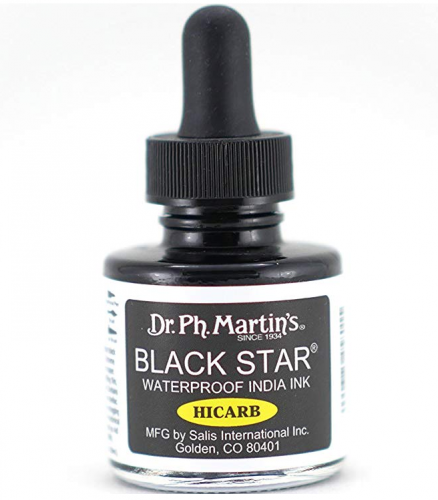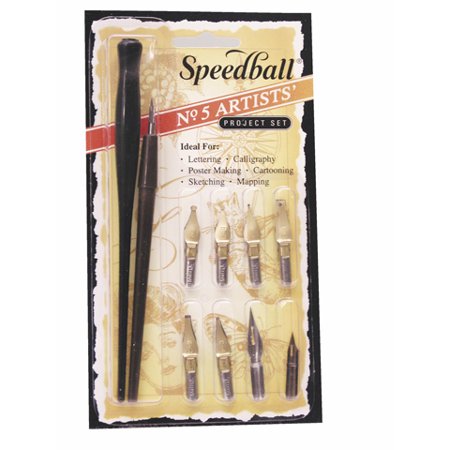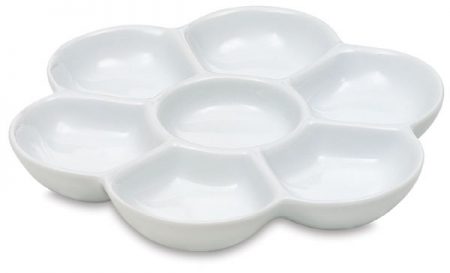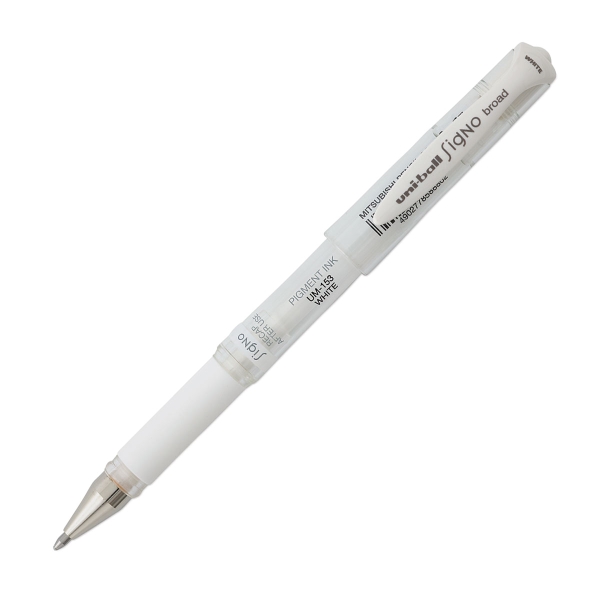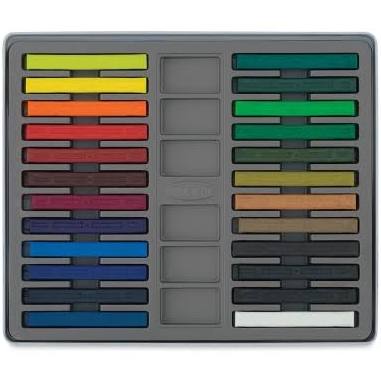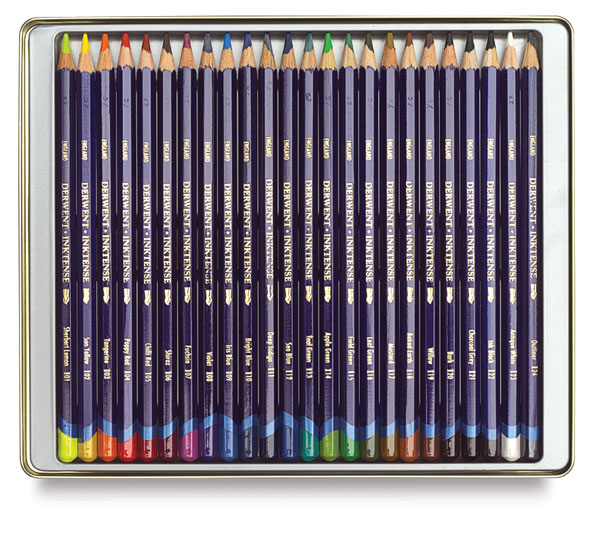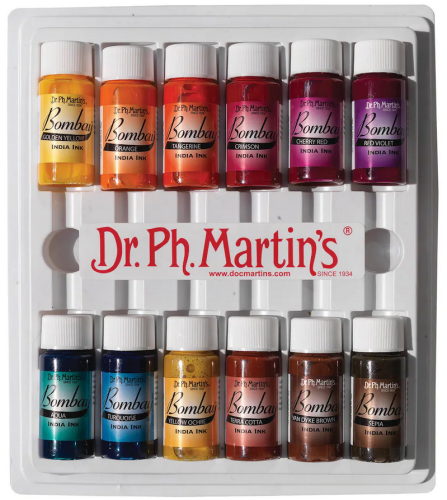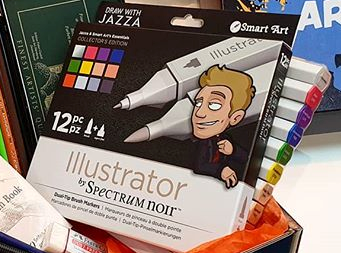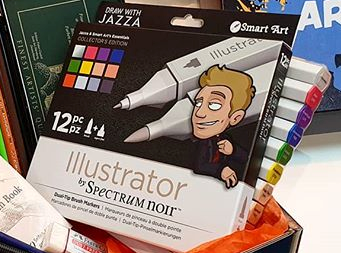 Embossed Leather Journal - 6 1/2" x 9 1/2"
Dr. Ph. Martin's Black Star India Ink
Speedball No 5 Artists Set
Inktense Set of 24 blocks
Inktense Pencils set of 24
Dr Ph Martins Bombay Inks
Hover over the images to display slide captions.
Leather Sketchbook
I purchased this sketchbook last year for Inktober and loved it.  This year I got another.
There's no brand name and I've only found it at Hobby Lobby.  I used a 40% off coupon which made cost under $10.
This is Water Buffalo leather, hand tooled and filled with a heavy, textured, deckled edge, handmade paper.
While the paper isn't great for fine details, it holds up wonderfully to ink and ink washes without bleed through or warping.
Dr. Ph. Martin's Black Star India Ink - HiCarb
Last year I used Dr. Ph Martin's Bombay India Ink (black) and loved it.  It's waterproof and archival.  However, when dry it was incredibly shiny.
This year I decided to give the Black Star HiCarb a try.  It's a bit more expensive, but much less shine when dry and also a deeper, darker black.  It is also waterproof and archival.
Speedball No5 Artist's Set
While at Hobby Lobby looking at inks, I discovered this pack of nibs.  They have various sizes which I thought would be something to diversify my ink work.
Porcelain Flower Palette
This palette is incredible!  I highly recommend if you work with ink washes to use a porcelain palette.  The ink even concentrated & dry, washes right off!
Don't spend a ton of money on them.  I found mine on sale at Hobby Lobby for $2.99 each (I bought 2 last year)!
Faber Casell Pitt Artist's Pen Set
I purchased these last year and love them!  The nibs are S (script), F (Fineline), M (medium) and B (brush).
They are filled with black India ink, archival and waterproof.
Derwent Inktense - Blocks and Pencils
I have both 24 sets of Inktense Blocks and Pencils.  I love them!
These will be another option if I choose to add color to my ink drawings.
The blocks are fabulous to mix colorful ink washes.  The pencils can add details I can blend out with a water brush.
Inktense is not watercolor, but rather water soluble ink.
Uni ball Signo White Gel Pen
Another supply from Jazza's Jazzy Art Box!  This white gel pen is fabulous!  It is much more opaque than any other white gel pen or white ink I have used.  I love it!
Dr. Ph. Martin's Bombay Inks
One of my options for adding color if I decide to is by using a set of Bombay India Inks in various colors.  I believe this is set number 2.
They can be used with water to make washes and mix easily together much like working with watercolors.
They are also waterproof (when dry) and archival.
Spectrum Noir Illustrator Markers - Jazza's
My best friend purchased Jazza's Jazzy Art Box and then surprised me by splitting the contents with me!
This limited edition set will be another option for adding in some color.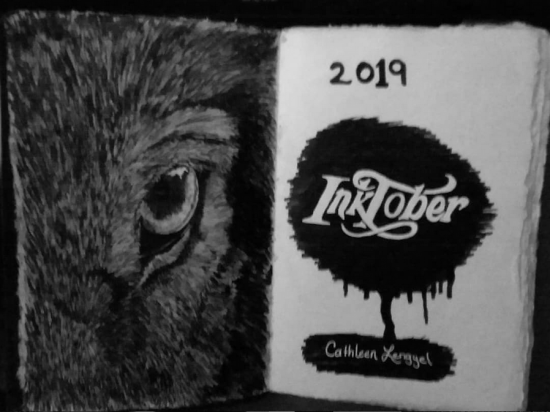 The first thing I did was get my sketchbook ready!  I decided to use my fine liners, brush pen and spectrum noir markers to create my inside cover.  I used a photo reference from Pixabay.
Last year I found a wonderful sketchbook that was leather-bound with handmade paper inside.  The edges of the paper are deckled which adds to the aesthetics.  
The handmade paper is thick and textured.  While it can cause problems for fine details, it takes the ink and ink washes well with little to no buckling.  I also thought it would add continuity to use the same type of sketchbook again this year.
After finished getting my sketchbook ready I still had the urge to get in some practice with ink.
I decided to pull out a piece of Canson Bristol Smooth and attempt an ink drawing.  I recently purchased both the Canson Bristol Smooth and the Canson Bristol Vellum in 9 x 12 inch pads.  I wanted to try them out and they were on an incredible sale at Hobby Lobby.
After searching a bit I found the reference photo I wanted to use!  It's a beautiful crow from Pixabay.
This is my first ever full ink drawing in black India Ink.  I used my Faber Castell Pitt Artist pens.  I also used the Spectrum Noir blender.  I discovered by accident that it works for blending my Pitt pens while the ink is still wet thus allowing for some wonderful shading.
This piece is available for purchase and also in 8 x 10 inch Giclee prints.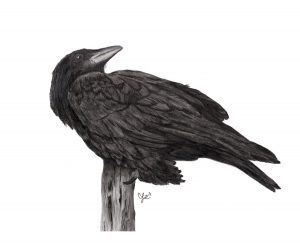 "Looking Back"
8 x 10 inch Ink Drawing
Get Inky and Keep Creating!